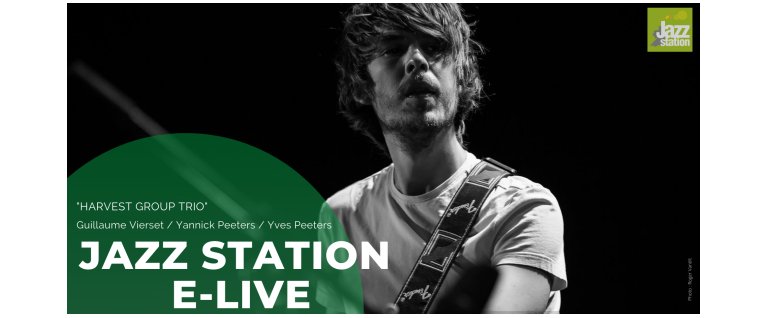 Harvest Group Trio (Guillaume Vierset, Yannick Peeters & Yves Peeters)
The Jazz Station will celebrate its 15th anniversary at the end of September. A somewhat special anniversary in view of the current situation, so it was keen to offer an overview, a sketch of what represents the heart of its program. This mini-series of concerts thus evokes the DNA of its scene : organic, curious and open-minded music. Based on the principle that there are as many definitions of jazz as there are jazz(wo)men, these thirty artists chosen from among many others have marked the history of its stage. In their own way, they represent a contemporary vision of jazz, which the Jazz Station supports on a daily basis. Confirmed artists or newcomers to follow closely, crossovers or revisited paths, traveling or intimate souls, these women and men from here or elsewhere embrace in our eyes what the Jazz Station is all about.
Harvest Group Trio (Guillaume Vierset, Yannick Peeters & Yves Peeters)
Revealed on the jazz scene with LG Jazz Collective (septet bringing together the young guard of Belgian jazz - Antoine Pierre, JP Estiévenart, ...) but also active as sideman for pop bands (Sacha Toorop, Typh Barrow ...), the guitarist Guillaume Vierset returns with Harvest Group, a project that is particularly close to his heart. After a first opus, "Songwriter", released in 2015 and nominated for the Octaves of Music, he presents a new album with folk accents.
With "Nacimiento Road", the guitarist takes us through the vast expanses of the American West, somewhere between Arizona and California and presents music between jazz and folk. He is inspired by both Jim Hall's acoustic jazz and Jakob Bro's aerial music, or the American tradition of guitar playing by Julian Lage and Pat Metheny. But above all, he affirms his strong taste for the folk tradition and the harmony of songwriters (already unveiled with his first album whose title was revealing) drawing inspiration from the music of Sam Amidon, the modern folk of Bon Iver, the sense of Neil Young's melody, or Nick Drake's dark nostalgia.
With this album, the guitarist asserts himself through a much freer writing in favor of a harmony rich in emotions. Harvest has found its identity, a veritable group sound where the guitar, the soprano sax and the cello intertwine brilliantly in favor of dreamlike flights supported by a rhythmically sensitive skin.
An ascension journey through the American imagination led by one of the most original groups of the current Belgian jazz scene.
For this video record we will listen to a reduced form off the group composed of Guillaume Vierset, Yannick Peeters & Yves Peeters.
These tapes have been directed by Les Frères Jambon Production
Sound and mix : Vincent De Bast
Editing : Léo Guillaume and Kostia Pace
These tapes have been made thanks to Sabam for Culture, Jazz Brussels and RTBF auvio's support.