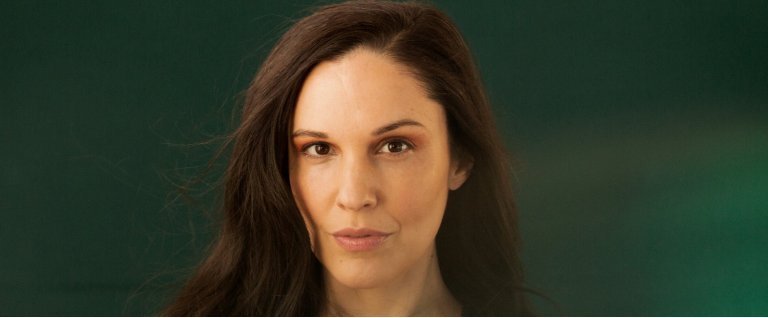 Simin Tander "Unfading" (DE)
Simin Tander – voice, composition | Björn Meyer – electric bass, effects | Samuel Rohrer – drums
The Jazz Station and the Goethe-Institut invite you to their 10th edition of German Jazz Nights! For three evenings, the Jazz Station will be inhabited by German jazz, through various projects and very specific musical personalities. For this very special edition, we will offer you a panel of the various groups that we have had the pleasure of hosting over the past ten years...
The German-Afghan singer and composer Simin Tander demonstrates once again that she is one of the most exciting voices on the European jazz scene. Singing in both English and Pashto/Afghaani, her warm, tender yet powerful timbre exudes a pull, a quiet intensity that is very rare indeed.
A few years earlier, she had already been fêted by the international press for her album Where Water Travels Home. And the reactions to her ECM debut What Was Said – with star pianist Tord Gustavsen and drummer Jarle Vespestad– were even more exuberant, securing it the Annual German Record Critics' Prize. Simin Tander has performed at leading festivals around the world, both with this trio and with her own formations. Simin Tander's latest work, Unfading, sees a brand new line- up. With unconventional instrumentation and "passionately subtle" playing, Simin Tander's "new quartet" (here performing as a trio) creates a whole new sound that is both transparent and endlessly deep. Swedish electric bassist Björn Meyer, who is based in Switzerland, provides harmonious foundations and atmospheric sounds – not least thanks to his mastery of electronic effects. For his part, Berlin-based Swiss drummer Samuel Rohrer displays his uncommonly sensitive and tasteful touch, with downtuned drums adding a dry, dark pulse to certain grooves.
Simin Tander and her hand -picked musicians inspire one another, creating a touching intimacy. With an expressive power that is hers alone, Tander's voice maintains a close, immediate presence, both in singing lyrics and in her very unique, freely improvised sounds and language.
The captivating intensity that underlies Unfading has much to do with Tander's emotional connection to the poems she sought for this album. They were written by "inspiring women who were – or in some cases still are – very strong and self-willed personalities within the scope of their culture and their time." Among these are also poems in her father tongue Pashto, written by Afghan poetesses from the 17th century and from today.
Unfading as a whole conveys a touching melancholy and yet also an undeniably positive, life-affirming attitude: "In the word 'unfading', there is so much of my yearning to keep on moving" – the word can therefore be taken to mean an everlasting river that reveals itself again and again and keeps on flowing.
€ 12 full price / € 9 members, students, job seekers. Reservations via our online ticket office.
Following the latest sanitary measures taken by the government, from October 1, we will ask spectators over 16 to present a Covid Safe Ticket (sanitary pass) at the ticket office in order to be able to attend each of our activities.

Friday 15 October 2021 from 20:30 to 22:30