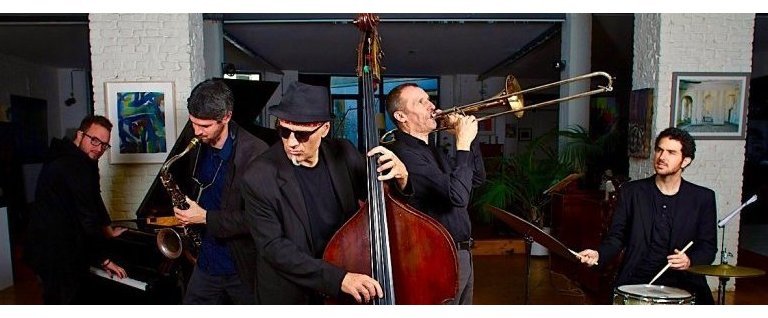 SLR 5|Joker
Sal La Rocca - double bass / Maayan Smith - tenor saxophone / Phil Abraham - trombone / Igor Gehenot - piano / Noam Israeli - drums
Sal La Rocca never ceases to surprise us. After the hit album "Shifted", the Sicilian-born double bass player returns with a new and profoundly different project. There is a quintet version of a brand new line-up with Maayan Smith on tenor sax and Noam Israeli on drums. Two Israeli musicians newly arrived in Brussels, whom Sal met during a jam, and whose ardor and energy quickly seduced. On the piano, it is the incomparable Igor Gehenot whose percussive sound tinged with Caribbean tones gives a warm and welcoming music. Phil Abraham, who collaborated on Sal's latest album, enters the band with beautiful textures highlighting the compositions of Sal La Rocca. These sound groovy, resolutely optimistic. They make you think of the sea, the beach, make you want to dance, hug, laugh ... It feels great at the time when these few words are written ...
€ 12 full price / € 9 members, students, job seekers. Reservations via our online ticket office.
Following the latest sanitary measures taken by the government, from October 1, we will ask spectators over 16 to present a Covid Safe Ticket (sanitary pass) at the ticket office in order to be able to attend each of our activities.

Saturday 9 October 2021 from 18:00 to 20:00